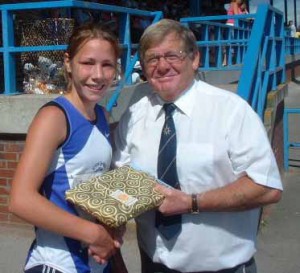 Rebecca MeshRebecca Mersh's goal of walking at the World Youth Games in Marrakech took great strides forward when she took competed in an event arranged especially to give the top U18 walkers the opportunity to better the tough 24.10 qualifying mark.
When it became apparent that there were no 5,000m track walks before the selection date City of Sheffield AC's John Howley offered to organise a track event as part of the annual Jeff Ford Memorial Walks.
Rebecca's fellow international Johanna Jackson agreed to come down from Redcar to help her keep a constant fast pace going throughout the twelve and a half laps of the track. With 2,000m to go the pair were 8 seconds adrift of the required time but they picked up the pace from 1.57 second laps to 1.54's in the last 4 laps and Rebecca crossed the line 4 secs inside the required time standard with Johanna 6 seconds ahead.