If two weeks ago you had asked 14 year old race walker Rebecca Mersh what her first major international target was, she would have replied 'The World Youth Games – Marrakech 2005.' That target has now been turned on its head after completing her first ever 10,000m race.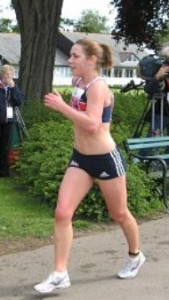 Not only did Rebecca, who is sponsored by Esporta Fitness Club knock a colossal 4 min 43 sec off the UK age 14 best but even eclipsed the UK age 15 best set by Sheffield's Olympian Vicki White (Lupton) 20 years ago. The new record of 53 min. 13 secs puts her within a minute of the times achieved by two of Britain's competitors in a recent Junior International in Vienna. Rebecca explained 'Two members of the British team are now a mere 50 metres and 200 metres ahead of me, that is nothing in a 25 lap race.'
Rebecca who is now part of the Regional development squad that meets at Sheffield's 'English Institute of Sport' once a month during the winter under the watchful eye of Brad McStravick has a new target, to make the U20 team for the Race Walking World Cup in Naumberg, Germany in May 2004.